As an industry, cybersecurity has shown promising growth for upcoming analysts and engineers when it is about making a career in tech. In addition, the increasing security risks, ransomware attacks and several other rising security issues have contributed to the need for new cyber professionals.
The global economy has shifted to several internet-based computing systems across the world. But unfortunately, they are making organisations even more vulnerable to cyber-attacks and hacking. Any organisation's duty is to take proper care of the proprietary data they are entrusted with; this is where the role of a cybersecurity analyst comes in.
What is a cybersecurity analyst?
Cybersecurity Analysts are assigned to protect computer networks from unauthorised access and cyber-attacks.
They are mainly able to do it by anticipating and defending against cyber threats and responding to all security breaches at the time of their occurrence. This job profile is one of the most valuable roles in any organisation. They help in protecting the valuable assets of the company.
When you are the cybersecurity analyst of any company, your task is to protect that very organisation's important and sensitive information. The organisation's software, hardware and networks are the most valuable assets, which are meant to be in safer hands only.
The everyday tasks of any cybersecurity analyst vary depending on the organisation. However, here are some of their responsibilities.
Monitoring the network traffic for security events.
Investigation of incidents.
Responding to incidents in real time.
Writing in detail about incidents in response reports.
Installation and operation of firewalls, encryption of programs and much more.
Fixing vulnerabilities.
Developing and promoting the best and crucial practices for information security.
Conducting threat research.
Periodic assessments of risks and penetration tests.
A Cybersecurity Analyst also needs to be aware and understand the latest cyber threats that can happen in future. Being familiar with Windows, Mac or Linux-type operating systems is also beneficial. Likewise, familiarity with VPNs, firewalls, proxies and SIEMs (security and information event management systems) is advantageous.
What does a cybersecurity analyst do?
What are the qualifications for cybersecurity analysts? Do cybersecurity careers provide many opportunities?
Cybersecurity analysts/engineers are trained professionals specialising in the IT infrastructure's security and network. They keep a constant record of the threats and monitor the organisation's networks if there is any breach in the security system.
The analysts also create contingency plans which the companies will implement if there is any successful attack. Since attackers constantly evolve and use new strategies and tools, analysts need to stay aware of the damages that might come.
Also, their role is to spread the word and educate the members of their organisation about common security risks and practices. Even the most secure systems can get undermined by any user with the right access levels.
Why become a cybersecurity analyst?
If you go and ask any existing cybersecurity professional about their career choice, a variety of answers can be expected.
Along with newer threats and more sophisticated attacks all the time, it gives a fresh opportunity to learn something new each time. So it is for the better that we are always a step ahead of any criminal, making the job more exciting where no two days can be the same.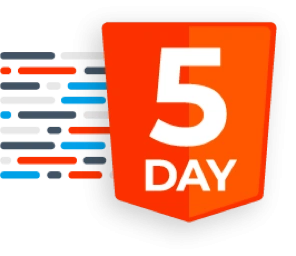 Next course: Monday, the 25th of September
Free coding course
Learn the basics of HTML, CSS & JavaScript to discover if coding is the career path for you.
How to become a cybersecurity analyst?
Here are some tips for becoming a cybersecurity analyst.
Learning the Basics
Learning the basics is important for starting out in any career. Getting to grips with the right tools, jargon, and best practices is essential. By learning the basics first, you will be at an advantage when you start taking part in academic courses, etc.
Development of cybersecurity skills
Cybersecurity Analysis is a technical role requiring job-specific and workplace skills. Below are some of the important skills that one should possess.
Technical skills in cybersecurity
Intrusion detection: The main job of a cybersecurity analyst is to prevent online attacks. Hence one also needs to know about the process of its detection. Along with the procedure that happens afterwards, this might involve monitoring the network, analysing the event logs, and being familiar with SIEMs.
End-point management: Now that more and more people are willing to work from home, organisations require professionals who know about securing endpoints, like in computers, phones and other Internet of things. The tools used in these processes could include firewalls, network access controls, antivirus software and virtual private networks.
Data security: The data is the most valuable resource of the entire organisation. So, one should know about encryption, transmission controls, access management and other internet protocols.
Programming: A basic knowledge of any programming language can give an edge over several others.
Networks and their security: The attacks mainly happen on networked systems. To keep them all protected against potential threats, the correct knowledge about the working of networks is essential.
Workplace skills in cybersecurity
Attention to detail: Details are crucial at this point. Noticing any anomaly can save or destroy an entire organisation causing significant losses.
Communication: it is the key to performing better in any field. Whenever something related to the security event happens, the analyst should be able to coordinate with the team and document the recovery and the procedure.
Thinking Critically: This skill empowers analysts to make the correct data-driven decisions.
Curiosity: The technology will continue to evolve and show more developments in the future. This may mean the evolution of cybercrime too. Curiosity helps analysts stay up to date on trends and should keep you ahead of any future threats.
Keeping Calm: Prioritising important tasks, acting quickly during any security event, and minimising damage require peace of mind.
Cybersecurity Qualifications
Cybersecurity, also referred to as information security or computer security, is a type of practice required for the protection of data, networks and computers from potential threats, damages, and losses.
The opportunities are also increasing along with the increase in interconnectivity. The cybercrime rate has exponentially increased in the past few years and fuelled that demand for more skilled cybersecurity professionals. The job outlook of this title is expected to grow even more in the coming years.
Many professionals in the cybersecurity industry have a single bachelor's degree in computer sciences, although most companies prefer candidates with certifications. This helps them to validate the knowledge and the practices. It is quite easy to find certificates for cybersecurity, as there are hundreds of them available, starting from general to a level of vendor-specific or entry-level get advanced.
Below are some places to search for cybersecurity certification.
CISSP – Certified Information Systems Security Professional
Entry-Level Jobs in Cybersecurity
Some of the most common entry-level jobs have been mentioned below.
Information Security Analyst: This is among the most common roles in the cybersecurity industry and is also said to be an excellent entry point for entering the world of information security.
Information Security Specialist: These roles depict that you are the point person for security, the responsibilities of the analyst here can vary upon the organisation.
Digital Forensic Examiner: Digital forensic investigators try to retrieve the information from the systems and gather proof for legal evidence.
Start coding for free
Understanding code is advantageous for a career in cybersecurity. It will give you an understanding of how software works. If you want to learn some of the basics of code for free, try our free 5 Day Coding Challenge. After just one hour a day, over five days, you'll have built your first web page. Register now through the link below.