Online Learning – The Benefits
Online learning, distance learning, remote learning. No matter what you call it, it's on the rise. Never before has the world been so dependent on technology and the internet. MOOCs (Massive Open Online Courses) and Coding Bootcamps were rising in popularity before, but right now, they are growing rapidly, as more and more people opt to learn with the time they have to spare. However, remote learning is different from your average in-class experience, and if done correctly, it will also train you with the skills required for agile and remote working.
Whatever the reason for upskilling, whether it's a career change, or reskilling during unemployment, there are huge benefits with learning online. If you choose the right online programme, you will have identified that support was a key factor in your decision. With Code Institute, for example, we have a Student Care team, tutors, mentors, and an incredibly strong careers team to help you land a role in software development.
---
Online Courses – Upskilling
However, for online learning to work for you, you must be committed, motivated, and willing to learn. You also need to be prepared. Learning remotely requires a good set-up from home, scheduling techniques and more.

One of the best things about learning to programme online is not just the curriculum. It is the other skills that you pick up. When you take part in a course like ours, you learn how to be an agile worker. You learn that you can do it from anywhere. You also gain the skills required for remote working.
81%
Of students said digital technology helped their grades
60%
E-Learning boosts retention rates by
110 Million
Students learned through MOOCs in 2019
---
Remote Working – Making the best of it
Working remotely has been a topic of conversation for most businesses over the last few years. However, only now has it become a necessity, and in the future, it will be vital to all companies to be comfortable in this realm. A typical day working from home should result in at least the same productivity that would come from working in an office environment.
For both individuals and businesses, there are significant benefits to working remotely. Companies, however, need to learn how to effectively manage remote teams. From a business HR standpoint, this is hugely important.
For individuals, if you have experience in learning remotely, then things shouldn't be much different for working remotely. Remember, time management and commitment are of utmost importance. As is taking regular breaks and working in appropriate conditions. Here are some tips on working from home.
---
Learn Programming for Remote Working
One career path that is perfectly suited to remote working is software development. People who have learned to programme, especially those who have done so online, are in a perfect position to work from home. As we're learning now, we have never been so reliant on technology, and developers have always had one major requirement – good broadband. Developers who have learned their trade through an online programme are pre-skilled in working remotely. Therefore, they are agile and ready to go.
As Governments and businesses are extremely reliant on data analytic services, developers who are trained in Python and/or Java, are in extremely high demand. In the future, developers who learn Python will thrive because of the growth of data.
#1 Python most popular language in the world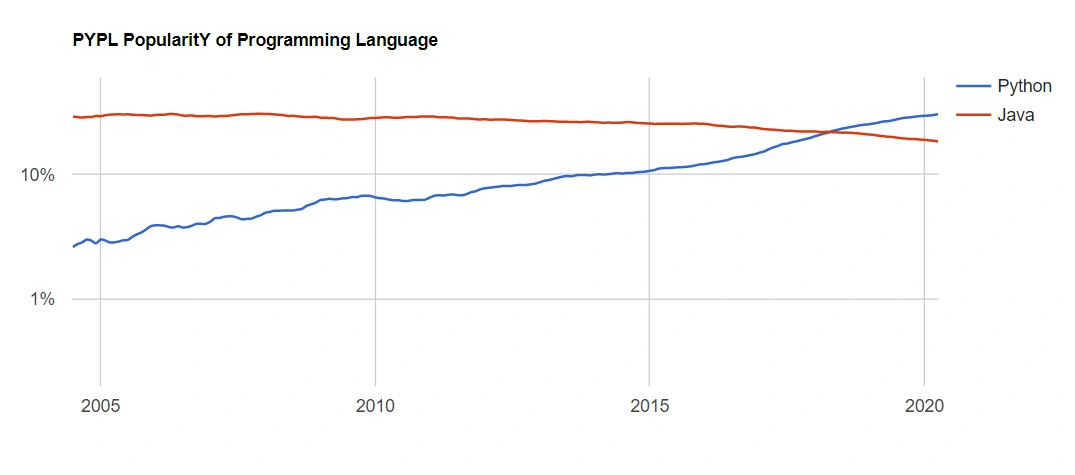 "Python was the most popular language, it grew the most in the last 5 years (19.4%), and Java lost the most (-7.2%)" – The PYPL PopularitY of Programming Language Index
---
Getting Back to Work
For those who have been made redundant or unemployed, there are huge benefits in retraining in software development. With it, also comes;
The need for software developers has not decreased, and if anything, our recent dependence on technology has shown that the demand for programmers will only grow in the future. If you have been made redundant or unemployed due to recent events, this is a career change worth considering.
For others, now is a chance to work on your skills to come back stronger to the workforce. People around the globe are honing their skills, and an online programme is the fastest way to do that.
---
Free Online Coding Course
Experience what it's like to learn to programme online. This free coding challenge will teach you the basics of HTML, CSS & JavaScript. It will also show you how a good Online Learning Management System works.
Over five days, you will be introduced to new coding concepts, technologies and processes. It takes roughly 1 hour of dedication per day, but the rewards are great. Find out if you have what it takes to become a professional software developer!